Welcome to the Trolls (film) Wikia
Welcome to the Trolls Wikia! This wiki is all about Dreamworks Animation popular animated series films, Trolls. Keep in mind though that we hold no affiliation with Dreamworks Animation. You can find a list of administrators here, and to contact then just leave a message on their message wall.
Featured Article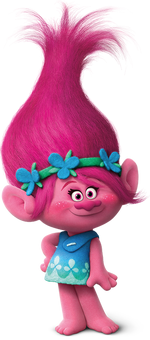 Poppy is the relentlessly upbeat — if slightly naive — Troll whose father King Peppy saved his subjects from the Troll-hungry Bergens. As she and her group of nine friends, the Snack Pack, face their biggest challenge ever, Poppy is faced for the first time in her life with a problem that apparently can't be solved with a song, a dance and a hug. But after some hilarious attempts at saving the day, Poppy discovers that being true to yourself is always the best answer.
Poll
Who is your favorite main Troll?
Ad blocker interference detected!
Wikia is a free-to-use site that makes money from advertising. We have a modified experience for viewers using ad blockers

Wikia is not accessible if you've made further modifications. Remove the custom ad blocker rule(s) and the page will load as expected.